Former minister of Aviation and chieftain of the people democratic party, PDP, Fermi Fain- Kayode has lashed out at Fermi Adenine, the Special Adviser to President Muhammad Buhari over Saturday's phone conversation.
Recall that Femi Adesina felt elevated when he recieved his principal call yesterday but Mr. Fani Kayode termed it as "Aso villa curse is at work".
He said: "I heard about Femi Adesina's reaction to the phone call he received from Buhari and I came to one conclusion: the villa curse is at work."
"When Femi Adesina finally sees Buhari he will crawl on his belly like a snake on heat and offer songs of praise and worship to the tyrant", he said on his social media account.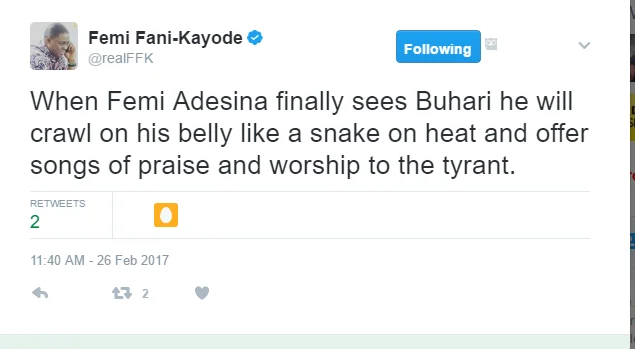 Last edited by a moderator: