On Sunday, a violent clash between supporters of the All Progressives Congress, APC and the Peoples Democratic Party,PDP claimed the life of a motorcyclist in Ado-Ekiti. The clash also left several other persons critically injured.
Eye witnesses said trouble started at about 8 a.m. when some APC members trooped out to the city centre with brooms to conduct a "cleaning exercise" following Saturday's PDP rally for its flagbearer in the June 21 guber election, Ayo Fayose.
The APC members were said to have been stopped midway by a combined team of security agents who were still keeping vigil in the Ekiti capital.
The APC members, who were said to have initially resisted the directive to halt the cleaning exercise, were later dispersed with tear gas.
The clash became bloody when one of the rival party members was said to have been shot dead by unknown persons.
Eyewitnesses said the incident left no fewer than four vehicles damaged while six motorcycles were burnt.
Reacting to the development, the state APC Chairman, Chief Jide Awe, alleged that the clash was triggered by the bias of the police against his party.
Awe accused the State Mopol Commander, Mr Gabriel Selenkere, of shooting dead an APC member.
He also accused the commander of personally firing tear gas canisters at Governor Kayode Fayemi who was trying to restore normalcy.
He said the ruling APC no longer had confidence in both the state Police Commissioner, Mr Felix Uyanna, and the Mopol commander.
But the state PDP Chairman, Chief Makanjuola Ogundipe, accused APC members of provoking the violence by attacking a motorcyclist wearing a T-shirt with the Ayo Fayose inscription.
He alleged that the APC members also attacked other motorcyclists wearing T-shirts which had the inscription of the PDP candidate on them.
Ogundipe claimed that the killers of the commercial motorcyclist removed the Ayo Fayose T-shirt on him and replaced it with an APC vest to indict the PDP.
The Ekiti Police Command, however, exonerated its officers in the killing of the unidentified motorcyclist, saying the victim died in the violent clash between the rival parties at Ijigbo roundabout.
It also said eight persons were arrested in connection with the clash, adding that APC chieftains led by Sen. Babafemi Ojudu and House of Representatives member, Mr Oyetunji Ojo, provoked the violence through their utterances and actions.
The police spokesman in the state, ASP Victor Babayemi, said in a statement that those apprehended were helping the command to unravel those behind the attacks.
The statement blamed the APC for embarking on its cleaning exercise without obtaining permission from the state police command. On the alleged tear gas attack on Fayemi, the statement said the police commissioner and the State Director of SSS had warned the governor against visiting the scene of the incident until normalcy was restored, a warning he allegedly ignored.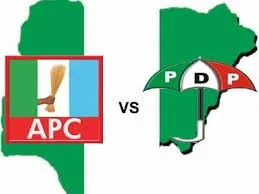 #fayemi #fayose #pdp #apc #ekiti #allprogressivescongress #peoplesdemocraticparty