Manchester United Manager, Jose Mourinho has revealed why he refused to shake hands with Chelsea Manager, Antonio Conte after Monday night's FA Cup quarter-final defeat at Stamford Bridge.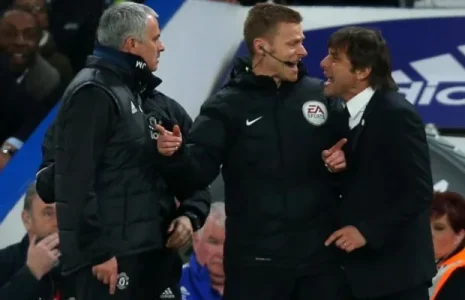 During the Monday clash, Conte reacted angrily after one of a number of fouls on Eden Hazard in the first half, and there appeared to be a clash on the sideline between the two gaffers.
But the Portuguese Manager has insisted that they did not shake hands because he was prioritizing his players immediately after the game.
"If I see him here I will shake it. I didn't because I thought my players deserved my action immediately and our supporters also deserved our thanks to them, so it was that.
"I can promise you that if I see him out there I will shake his hand. I have nothing to speak with him at all, but to shake his hand, for sure I will do that", he said.
The former Real Madrid boss was also asked about the sections of fans who called him Judas during the game, and he said, "They can call what they want, I am professional and I defend my club.
"Until the moment they have a manager that wins four Premier Leagues for them, I am the number one. When they have somebody that wins four Premier Leagues, I become number two. But until this moment Judas is number one.
"I want to say that I'm really proud of my players, I'm really proud of Manchester United fans. We have a very important match on Thursday and I want to rest a little bit to try to prepare the team as best we can for the Thursday match and that's the most important thing."