Professor Alexia Thomas, a Nigerian-born, British fiery Human Rights Activist who doubles as Chairman, The Commonwealth Liberation Party (TCLP), a registered political party in United Kingdom (UK) and President, Independent Diplomat Commission (IDC), has issued a-48 hour ultimatum to President Muhammadu Buhari to order a complete close-down of Nigerian Embassy in London as a result of unchecked corruption, fraud, illegal arrest, criminal torture of Nigerians arrested, detained in various British Immigration Centers across the Queen's enclave awaiting deportation.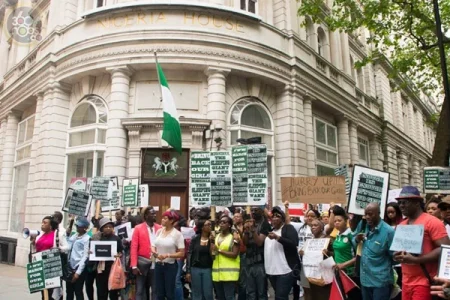 In this encounter with George Elijah Otumu, CNN iReport Journalist North America, she revealed a formidable uprising and protests already in the works by Nigerian community in UK to set ablaze 'Nigerian House' as a reactionary sign to tell the world how officials of Nigerian Embassy trade every Nigerian deportee for the sum of 3,000 Pounds in the hands of UK Border Agency.
Also, she narrated the conspiracy between British Immigration and UK Border Agency which led to her 'prison notes' for fighting for Nigerians' freedom.
Read the interview
Here