The Asset Management Corporation of Nigeria (AMCON) Thursday took over the executive control of Arik Air to save the carrier from collapse due to its heavy financial debt burden.
The airline will now be managed by Capt. Roy Ukpebo Ilegbodu, a veteran aviation expert with more than 30 years experience, under the receivership of Mr. Oluseye Opasanya (SAN).
A high-ranking source at AMCON confided in Guardian Newspaper that "the issue with Arik goes beyond wanting to recover debts owed."
According to the source, "Even if AMCON wants to recover the N135 billion, under the current economic crisis, how much will it realise from selling the aircraft? They've gone from 28 aircraft to just 10 in the fleet."
The source said further: "N135 billion is just debts owed to AMCON. What about the $20million owed foreign partners for services or the N100million to renew its insurance?
"Besides, it has not been able to pay salaries for about seven months and everyday their passengers are stranded at all the airports where they operate. So we are trying to save them from collapse, not kill them as AMCON is often accused of.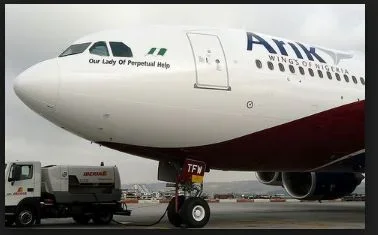 "In fact, it is in everybody's interest – the government, the airline and the passengers– that it continues to operate. There is no way government can allow Arik, Nigeria's biggest airline and the only one flying the international routes, to go under."
"The new management will examine the fundamental problems of the airline and will remain until the airline stabilises and able to meet its domestic and external obligations to all stakeholders," the source added.
Recall he Minister of State for Aviation, Hadi Sirika, said the development was timely and would stabilise the operations of the airline.
Related: Arik Air Talks Tough, Vows to Challenge AMCON Takeover