As it goes, some people are quite surprised that even though Nigeria seems not to be running out of problems of its own, celebrities are more than willing to 'adopt' foreign causes and charities. As Romance Meets Life says, "not one of them thought to create a challenge for Ebola awareness, Cancer, or any cause of their choice."
Yvonne Nelson, Charles Novia and Joselyn Dumas have taken it upon themselves to show their complete disappointment in Nigerian celebrities such as Genevieve Nnaji, DavidO, Peter of PSquare and Iyanya for taking part in the #icebucketchallenge.
Their one complaint is: "Africa has problems of its own; what are you doing about it?"
A few social media comments have been attached below: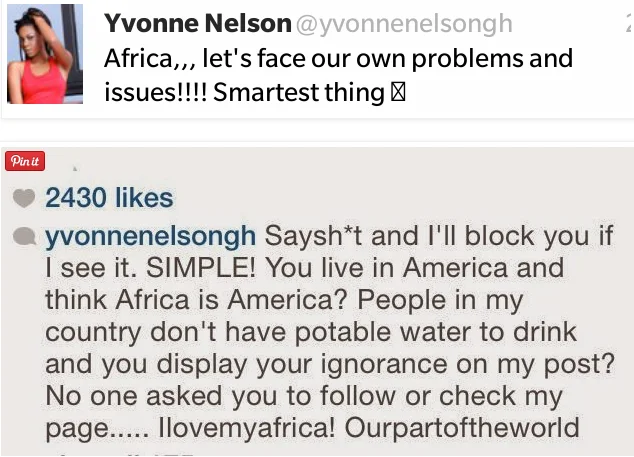 https://twitter.com/charlesnovia/statuses/502498753820254208
https://twitter.com/charlesnovia/statuses/502499156196622336
https://twitter.com/charlesnovia/statuses/502499710603919361
https://twitter.com/charlesnovia/statuses/502500162896678912
https://twitter.com/charlesnovia/statuses/502501183471489024
https://twitter.com/charlesnovia/statuses/502502499962847232