Senior Special Assistant to President Muhammadu Buhari on Media and Publicity, Femi Adesina, said that Zahra Buhari's wedding to Ahmed Indimi was a very modest affair.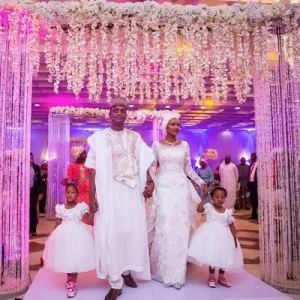 Adesina made the remark during an interview with Lagos Talk 91.3fm. He said, "Yes you saw pictures but pictures can be deceptive, pictures will not give you the exact impression, it doesn't communicate the exact thing that happened. I was at that wedding. I was the master of ceremony at the wedding launch. Despite the fact that it was the president's daughter's wedding, I will say it was modest"
"If you know our President, you will know that there is no ostentatious bone in his body. That wedding luncheon was modest for a sitting president. I don't like to compare but we were here when President Jonathan's daughter got married. You know the number of cars that she got, 80".
He added that if at all any flamboyance was exhibited at the wedding, it must have been from the family of Zahra's husband, the Indimi's who are very wealthy.