Senate President, Bukola Saraki, has filed a fresh application, asking the Chairman of the Code of Conduct Tribunal, Danladi Umar, from further presiding over his ongoing trial.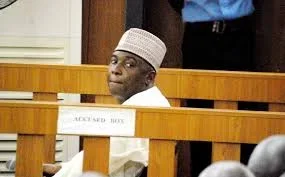 The fresh application is the second filed by the Senate President asking the CCT chairman to withdraw from his trial.
The Umar-led CCT had on April 28 dismissed the earlier application which sought the withdrawal of the CCT chairman from the trial on the basis of an alleged ongoing investigation of his involvement in a N10m bribery allegation.
Punch correspondent learnt on Tuesday that Saraki filed his fresh application accusing Umar of bias based on the comment made by the tribunal chairman at the last proceedings on June 7, 2016, while warning the defence team against delay tactics.
Umar had said, in response to the complaint by the prosecuting counsel, Mr. Rotimi Jacobs (SAN), during the June 7 proceedings, "I am not happy at the delay tactics by the defence counsel and I must say this thing out that this delay tactics will not reduce the consequences the defendant will meet in this tribunal at the end of the trial."
Saraki, in his fresh application filed by his lawyer, Kanu Agabi (SAN), alleged that Umar's statement would prejudice the outcome of the trial.
Punch correspondent learnt on Tuesday that the application had been served on the prosecution.
Meanwhile, as Saraki's trial resumes on Wednesday, it is not certain that the application will be heard as the prosecution has yet to respond to it.
The fresh application is one in the string of the motions Saraki had filed to stop his trial since the charges were filed against him last September.