No fewer than seven persons have been confirmed dead following protest by members of the Movement for the Actualisation of Sovereign State of Biafra (MASSOB), in Asaba on Monday.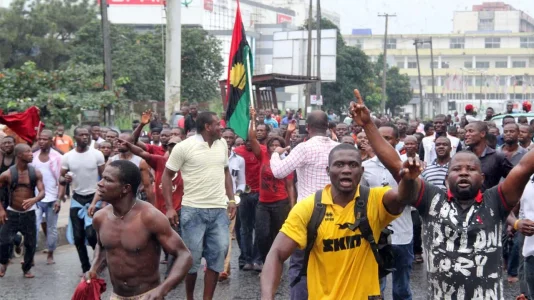 The Acting Police Public Relations Officer (PPRO), in Delta, SP Charles Muka, who confirmed this in a statement, added that the police recorded two casualties.
He said in the statement that five members of MASSOB were killed by military officers who had confrontations with the group along the Asaba-Onitsha Expressway in Asaba.
It stated that the military arrested and brought eight members of MASOB to the police and "are now in custody in Asaba.''
According to him, the protesters turned violent and attacked the policemen deployed to monitor the protest, killed two and injured two others.
The statement advised parents and guardians to warn their children and wards to follow the part of peace and pursue their agenda constitutionally.