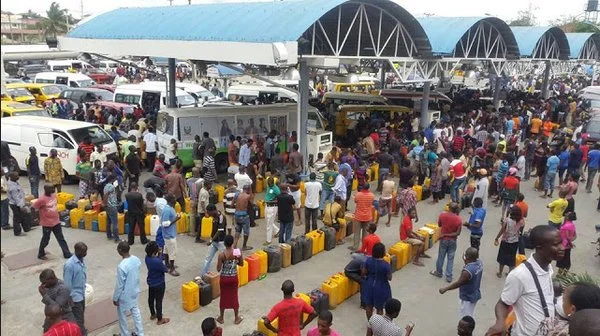 The importance of petrol in Nigeria can never be over emphasized. The commodity plays a major role in day-to-day life in Africa's most populous nation. Every Nigerian is affected in one way or the other by this commodity, which let's face it, is barely produced in Nigeria.
As it is, petrol plays a major part in the core sectors of Nigeria's economy - transportation and power. Nigerians fuel cars for transportation and majority use it to power generators to get electricity. As a result, the pump price of petrol (the price at which it is sold at fuel stations) is pretty important. It plays an important role in inflation (the price of goods), and determines the general mood of the nation.
Although the pump price of petrol is determined by a lot of things, here are 7 persons or bodies who can influence it in a great manner, negatively or positively.
President Muhammadu Buhari
Apart from being President, President Muhammadu Buhari is also Nigeria's Minister of Petroleum Resources. As a Minister he has tremendous power over the pump price of petrol in Nigeria. As President, he has even more authority and control over the commodity. Nothing happens in the oil sector without his consent or approval. He can also order that it be increased or reduced, at any time.
Oil Minister, Dr. Ibe Kachikwu
Dr. Kachikwu is Nigeria's Minister of State for Petroleum Resources. He is responsible for bringing up policies that influence the pump price of petrol in a major way. He oversees Nigeria's upstream and downstream oil sector. Many see him as the real Petroleum Minister while President Buhari is just a figure head.
NNPC GMD, Dr. Maikanti Baru
Dr. Maikanti is the Group Managing Director of the NNPC, Nigeria's state oil petroleum corporation (not company, corporation). The NNPC plays a huge role in the procurement of petrol for sale in Nigeria. Apart from setting rules, NNPC also imports the product and distributes to major areas of the country.
As the GMD, Dr. Maikanti oversees the day to day activities of the NNPC and any major decision to be made about the pump price of petrol has to pass through him.
PPPRA Chairman, Mohammed Buba
Alhaji Mohammed Buba is the Chairman of Petroleum Product Pricing and Regulatory Agency, PPPRA. The PPPRA is a subsidiary of the NNPC charged with setting up the pricing template for petrol in Nigeria.
CBN Governor, Godwin Emefiele
As things stand, Nigeria imports majority of the fuel it consumes. This makes naira's exchange rate against dollar a contributing factor to the pump price of petrol. Godwin Emefiele is an important member of the apex bank's Monetary Policy Committee, a body which makes important decisions that affects the nation's foreign exchange market.
Major Oil Marketers
Capital Oil owner Ifeanyi Uba, Femi Otedola, owner of Forte oil, and other oil marketers also have a say in the pricing of petroleum products in Nigeria. The Major Oil Marketers Association of Nigeria, MOMAN are also included.
They import the bulk of fuel Nigerians consume every day and have rendered the country comatose in the past when dragging an issue with the federal government on subsidy arrears. Their action or inaction during caused a scarcity which saw petrol being sold for up to N1000 per litre.
Oil Workers
This comprises mainly of members of the Nigeria Union of Petroleum and Natural Gas Workers (NUPENG) and the Petroleum and Natural Gas Senior Staff Association of Nigeria, (PENGASSAN).
NUPENG and PENGASSAN influence petrol pump price in their own unique way. Whenever they go on strike, there is a scarcity of fuel in the country. This usually causes the price of the commodity to rise if unaddressed.