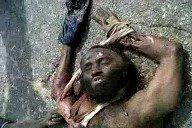 Body of Abubakar Shekau/Bashir Mohammed found in Konduga
​
This, from SaharaReporters: the man who has been killed as Abubakar Shekau, leader of the Boko Haram sect is known as Bashir Mohammed and he is the leader of the Boko Haram Uye camp.
Yesterday, Cameroonian authorities released the photos of the freshly killed man identified as the "loquacious and attention-seeking" Boko Haram leader.
SaharaReporters:
The Nigerian intelligence source told SaharaReporters that Nigerian soldiers, not Cameroonian troops, had killed Mr. Bashir last Friday in a fierce battle against Boko Haram insurgents in Konduga, Borno State. The late Mr. Bashir, who bore a striking resemblance to Abubakar Shekau and had appeared in a recent video, was killed as he led insurgents who were attempting to capture Konduga and then made a bid to seize Maiduguri, the Borno State capital, as well. Nigerian soldiers routed the Islamist militants in Konduga, killing hundreds of them and capturing weapons as well as vehicles abandoned by fleeing insurgents.
The military as well as Nigerian government-appointed negotiators claim that the original Mr. Shekau had died since last year, reportedly assassinated by his lieutenants.
The intelligence source said Mr. Bashir had adopted Mr. Shekau's nom deguere and had been the person responsible for issuing video messages in recent times.
Click here to read more
Source: #SaharaReporters