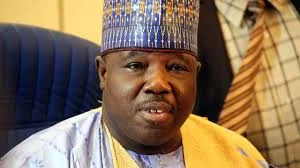 "The sack of Senator Ali Modu Sheriff as the chairman of our great party, the People's Democratic Party, PDP, came to me as a very big relief. The sack was long overdue as we had always maintained that Sheriff had no business being the chairman in the first place.
Although we were maligned by some party members and citizens alike for insisting that Sheriff must go as he was bad news for the PDP, his sack at the Port Harcourt conventionhas justified our stand. We knew that he railroaded himself into the chairmanship of the PDP under false pretences and bogus claims, three months into his ill-fated tenure, it has become clear to everyone that SAS was a mistake the party should not have made in the first place.
Now that he is gone, it is expected that the caretaker committee of patriots and dedicated party leaders put in charge to run the affairs of the party for the next 90 days would do well to embark on the urgent reconciliation of members with the purpose of making PDP that usual united and formidable party it has always been.
I have no doubt in my mind whatsoever that the caretaker committee as led by its chairman, Senator Ahmed Makarfi, former governor of Kaduna State, who has also been my long time friend and political associate, will create the needed atmosphere of trust and comradeship among party members going into the next convention.
Let me appeal to all aggrieved party faithful to sheathe their sword at this time and come together as one people under one umbrella. Now that the sore point has been removed, we must not miss this opportunity to forge a united front for the sake of Nigeria.
I must thank the governors, party leaders and elders for their resoluteness to do the right thing in the face of immense pressure. This action is proof that PDP is ready to correct its mistakes of the past and remain the only alternative to bringing genuine dividends of democracy to our teeming citizens.
It is time to return power to the people!"
Source: TrentOnline