Amina Mohammed, United Nations Deputy Secretary-General has urged young girls to stop waiting for opportunities to drop into their laps.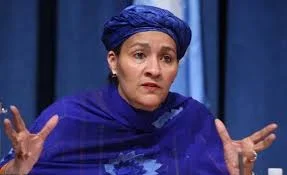 She made the call through her message to the Youth Forum of the Commission on the Status of Women, ahead of the International Commission on the Status of Women.
"Gender-based discrimination, marginalization, violence and other human rights abuses; unequal access to education, to health care; these are basic rights and also to opportunities for leadership and participation. This list goes on and on.
''The barriers are so high that it would take 170 years to achieve economic equality between women and men; 170 years!
''I'm sorry but I do not accept a world that says equality is not good enough for you or me or our daughters," she said.
The deputy UN chief challenged young women not to wait for opportunities to fall on their laps but go for it as waiting would not make it happen.
"I'm not waiting. I know you're not waiting. When I was your age I was never waiting. I was always being told to take it easy or time will come. And I was always thinking my time is now. So, our world can't wait. Building a better world won't happen on its own.
''We live in a world that is out of balance. Eight people hold the same wealth as half of humanity. All of them are men, by the way. Joblessness – particularly for young people – is on the rise. In many parts of the world, it is completely off the charts. And when you see data that just aggregates a figure, look behind the data to the people, the faces and where they are," she said.