Chief John Oyegun, National chairman of the All Progressives Congress, APC, on Thursday said the party was broke.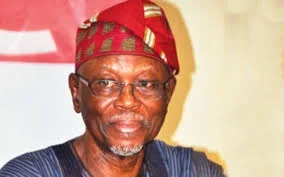 Oyegun called on Governors elected on the party's platform to rescue it from bankruptcy as it's on the verge of been handicap financially. The plea was made after a meeting with State Governors in Abuja.
Oyegun said the need to devise a new funding mechanism for the party was one of the topics discussed at the meeting. He said, "It was agreed that the party is not effectively funded as it should be. A new funding mechanism was, therefore, devised based on a planned continuous membership registration exercise across the country. The meeting agreed that this is the only sustainable way to fund the party.