Osun state Governor, Rauf Aregbesola is blaming Nigerians for the poverty in the country.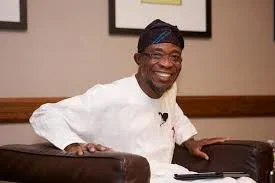 The governor, who was playing host to Nigerian Guide of Editors (NGE) in Osogbo, the Osun State capital lamented that the huge resources in the hands of this few was not even channelled to the development of the nation. He averred that if people still do not cultivate the habit of working and adding values to the economic activities, we will continue to remain poor; VANGUARD reports.
Aregbesola said "If we have ever paused to ask why we are how we are in this nation, we will discover that lack of productivity is at the root of our economic problems.
"The large chunk of the nation's wealth is in the hands of few while majority wallow in abject poverty. And this resources is not utilised for any development.
"Sadly, work does not pay in Nigeria today as those who work very well are the most poor. Our inability to develop values out of nature brought us to this abysmal level of poverty. Therefore, for as long as we don't work for this wealth, it will lead to lack of productivity. Work must be the major attraction for all of us rather than our heavy reliance of rent seeking oil economy of the present."