Drama played out Monday at the continuation of trial of Nnamdi Kanu, the leader of the Indigenous People of Biafra.
According to premiumTimes, the drama began when the lead defence counsel, Chucks Muoma, accused his clients of judicial misconduct, and threatened to withdraw from the case.
"My lord I am the lead counsel in this matter and courtesy demands that the introduction of a new counsel should be made with my consent," Mr. Muoma told Justice Tsoho.
Responding, the new counsel, Amoebi Nzelu, representing the second defendant, explained how he became counsel to Mr. Madubugwu.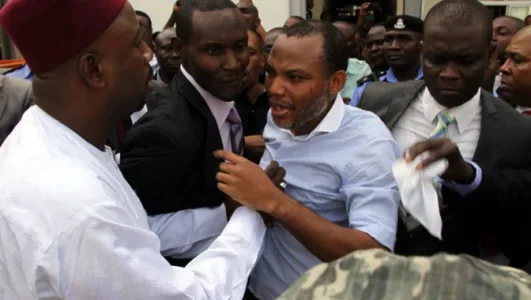 He noted that he was very fond of Mr. Muoma who hailed from the same village in Anambra as himself and would not want anything that rightfully belonged to his 'elder brother'.
"The SAN and I are from the same LGA, Orifite in Anambra State. In Orifite. He is the eldest in this profession, and followed by another person, and myself.
"I am not struggling to take your position. I cannot struggle with my elder brother. I am the third in command, in Orifite, while he is the first in command.
The lead prosecution counsel was absent in court, and the case was later adjourned to September 26 to 29.
Mr. Kanu and two others, Benjamin Madubugwu and David Nwawuisi were accused of treason and association with an unlawful society, are currently standing trial before Justice John Tsoho of the Federal High Court, sitting in Abuja.