Leader of the defunct Arewa Peoples Congress (APC), Alhaji Sagir Ringim has said that the ongoing clamour for the creation of the Independent State of Biafra was a ploy to colonize the South-South, sayig their land is too small to make up a country.
The Waziri Ringim told Vanguard that agitation by the Nnamdi Kanu led IPOB was a calculated effort to capture the economic prospects of the minority ethnic nationality in the oil rich region.
He said, "Those Indigenous People of Biafra have a hidden agenda to recolonize the South-south, capture the region, colonize the oil field for the betterment of the Igbos."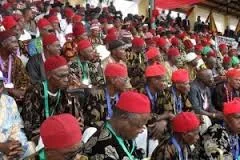 Speaking further, the northern leader said that Biafra is not blessed with solid minerals apart from coal, saying that the geology of the region can't support an independent country.
The former Intelligent officer of the Nigerian Army explained that "because of these natural shortcomings Igbos survived as a diaspora race than any dominant group in Nigeria".
Ringim opined that "if the Indigenous People of Biafra are now saying that yes, we want to have Biafra, what are you going to do with more than three quarter of the Igbos who are outside the East, those in Kano, those in Lagos what are you going to do with then? You take all those people then go back to Biafra? They have no houses to live, they have no means of livelihood."
Waziri Ringim dismissed IPOB activities as orchestrated blackmail to arm-twist other stakeholders in the polity for more economic advantage.