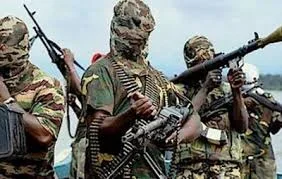 About 63 out of about 70 women abducted in Borno State by suspected Boko Haram gunmen have reportedly escaped from their captors.
According to Premium Times, the women managed to regain their freedom as their captors mobilised out of their hideout to attack military and police formations in Damboa Local Government Area, Borno State, on Friday night and Saturday morning, according to security sources.
"I have just received an alert from my colleagues in Damboa area that about 63 of the abducted women and girls had made it back home. They took the bold step when their abductors moved out to carry out an operation", said Abbas Gava, an official of the #Borno state vigilante group.
"We don't have the details of their escape yet, but we believe God gave them the opportunity at the time the insurgents came in their large numbers to attack Damboa where about 12 soldiers, five policemen, over 50 Boko Haram members and unspecified number of civilians were killed yesterday (Saturday)."
Mr. Gava said about five women and two girls still remain under captivity. One of the women is said to be a nursing mother
A top security officer in Maiduguri, who asked not to be named, confirmed the escape saying, "there is no doubt about your report; the women and girls were able to escape," said the source. "I guess it was during the time the gunmen were attacking Damboa; left behind just some few men to watch over the women, but the women took advantage of an opportunity when the guys were dozing off, and bolted away but quietly.
The news about the abduction of the women came to public notice almost a week after they had been taken by suspected Boko Haram gunmen who attacked the villages of Kumabza, Dagu and Yaga on the 12th, 13th and 14th of June.
#BokoHaram #PremiumTimes