Some serving ministers and governors on the platform of the two major political parties are deeply involved in the formation and funding of the much touted mega party; Action Democratic Party, ADP.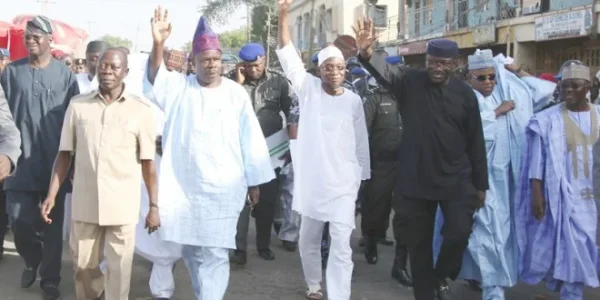 Saturday Sun gathered that beside the serving ministers and governors, a former Speaker of the House of Representatives, Dimeji Bankole, his father, Chief Alani Bankole and a minister of state for Agriculture under President Goodluck Jonathan, Alhaji Awodele Najeem Adewale have been named among notable promoters of the emerging party from the Southwest zone.
One of the top leaders of the yet to be registered party from the North who pleaded anonymity, told Saturday Sun on Thursday that "our support base cuts across party lines and cadres" when prodded to name some of the ministers involved in the party, said "it would be suicidal to mention their names now. But they are people not happy within the system but should they be dropped in the imminent cabinet shake-up, Nigerians will surely know them."
On the governors in secret romance with the party, the source gave the same excuse "for fear of persecution."
Further investigations by Saturday Sun however, revealed that a prominent All Progressives Congress, APC governor in the Northwest and another Peoples Democratic Party, PDP governor from the South-South are among the chief promoters of the party , aside their colleagues in the two major political parties.
Most of the big personalities involved in the new party, who are chieftains of the ruling APC, it was learnt are still playing hide-and-seek with the President Muhammadu Buhari-led administration, in order to avoid any backlash.
However, operatives of some security agencies who are fully aware of the clandestine moves, have continued to trail the "big actors involved, especially the movement of money to fund the new party and may move against them anytime soon."
According to a security source, " we are on the trail of the party's sponsors still hibernating in APC and others. When we start asking for the source of the funds they are moving around, we hope they won't start shouting political persecution, that is if the party's registration even scales through."