Abdullahi Ganduje, governor of Kano state, says President Muhammadu Buhari's sickness shouldn't be used as propaganda material.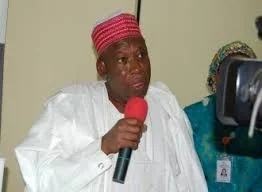 The Governor told journalists in Kano state that Buhari deserves a good rest.
"We pray for the president to be back home safely. His sickness was not an agenda and could not also be an agenda?, so you see the issue is," he said.
"I know Nigeria is a big country with multi-religious, multi ethnic, multi everything that you can think about, so is easy to politicise issues that are not supposed to be politicised.
"What we believe is that everybody can get sick. So you want to us to start calling him while he is sick, he needs some rest. If he is to talk with every governor, why is he there to get treatment and rest?
"People seize the opportunity to talk rubbish. Some are not wishing him well, so they are expressing their mind that he is sick, he is this and he is that. But he wrote formally that he would go for a vacation and medical treatment. So what kind of information are we looking more than that?"
Read more
http://newswirengr.com/2017/02/12/f...o-cant-be-my-associate-governor-ganguje-says/