The Code of Conduct Tribunal in Abuja on Wednesday adjourned the trial of the Senate President, Bukola Saraki, till June 21.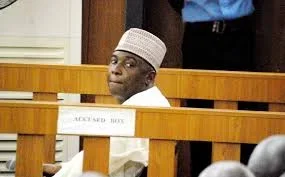 The tribunal adjourned for the hearing of a fresh motion filed by Saraki seeking an order of the CCT disqualifying its Chairman, Danladi Umar, from further presiding over the case.
Saraki filed his fresh application accusing Umar of bias based on the remark made by the tribunal chairman at the last proceedings on June 7, 2016, while warning the defence against delay tactics.
Umar made the statement that was picked up while warning the defence that their delay tactics would not "reduce the consequences the defendant will meet in this tribunal at the end of the trial".
Saraki, in his fresh application filed by his lawyer, Kanu Agabi (SAN), alleged that Umar's statement would prejudice the outcome of the trial.
At the resumed hearing in the case on Wednesday, lead defence counsel, Agabi, informed the tribunal of the motion which he said had yet to be opposed by the prosecution.
But in response, the lawyer, Mr. Pius Akuta, who stood in for the lead prosecuting counsel, Mr. Rotimi Jacobs (SAN),said the prosecution had some moments before the tribunal started sitting, filed its opposition to the motion.
He said despite that, the business of the day was for further cross-examination of the first prosecution witness, Mr. Michael Wetkas, and not for the hearing of the motion.
The tribunal chairman agreed with Agabi and fixed the hearing of the motion for June 21.
The fresh application is the second filed by the Senate President asking the CCT chairman to withdraw from his trial.