The Nigerian Senate has urged Service Chiefs to continue with the efforts being made to search for and rescue the 276 abducted Chibok girls.
After the meeting, the Deputy Senate President, Senator Ike Ekweremadu, said efforts to rescue the Chibok girls in the past two years were discussed in the meeting.
The security chiefs also addressed questions that bothered on national security in the country.
The Senate had on April 15 requested that the Service Chiefs should appear before it to give an update on efforts being made to rescue the over 200 girls abducted by Boko Haram in 2014 from Chibok in Borno State.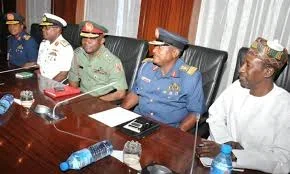 This is coming after a two-year anniversary of the girls' abduction by the Boko Haram terrorists group.
It will be recall that a video appearing to show proof of life of some of the kidnapped Chibok girls was aired, along with images of tearful parents identifying their daughters, unheard of since the mass abduction by the Islamic extremist group Boko Haram.
CNN showed the video, reported to be made in December of the girls wearing the hijab and of one mother reaching out to a computer screen as she identifies her daughter.