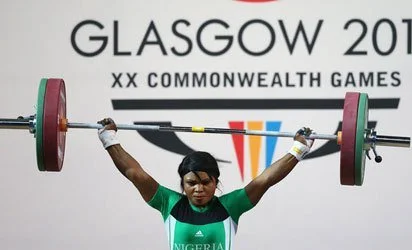 Obioma Okoli has said that winning silver at the ongoing Commonwealth Games feels like winning a gold medal.
Despite nursing an injury,Okoli persevered to finish second in the women's 63kg weightlifting event.
Nonetheless, the gold medal was eventually won by another Nigerian Oluwatoyin Adesanmi,who took the first position.
Narrating what winning the silver means to her,Okoli said that she went against the doctors advise not to compete and took a risk to win the medal.
"I've never felt this good in my career"Obioma said.
"This silver is more precious than Gold. In short, it is Golden silver", she said.
"I had a bad injury on my knee(she pulled up her track to reveal her knee that was bandaged). ''My knee cap shifted from my first lift and the pain was so agonising.
"The Doctors took me to ascertain the extent of injury and ruled me out from the rest of the lifts. I was devastated. I felt lonely and could not believe that I will no longer defend my last gold in India. I tried to plead with the medics to find a way to treat me but they warned me not to lift again. I rebuked them.
"But I had that urge in me and I didn't go back to the medics again as I bore my pain alone. Unknown to them, I went back when my next lift was called.
"I limped and held the babel, looked up to heaven and prayed a silent prayer. The crowd roared when I held the weight over my head with one leg. My opponent also lifted the same weight with me but because my body weight was more than hers, she won gold.
"Winning silver with one leg was so amazing that all the lifters could not believe it. The Doctors were shocked when they saw me lifting. I did that because of my love for Nigeria and my love for lifting. That is why I think that this silver means everything to me. I am happy. I am happy" she added.
"I thank my coaches and colleagues and our Nigerian officials. They stood by me. They knew what I can do when it comes to lifting weight. I dedicate this medal to God for having mercy on me", she said.