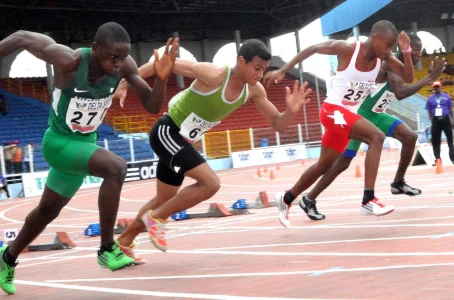 Nigeria's impressive stride continued at the 2014 Commonwealth Games with all three male athletes on Sunday qualifying for the semifinals of the 100m Men's event.
The athletes came through from their respective heats to secure qualification for the semifinals taking place on Monday.
Marks Jelks qualified in heat three which he won comfortably in a time of 10.28seconds.
Monzavous Edwards who ran in heat six,finished in second position in a time of 10.40seconds behind England's Adam Gemili who won the race in 10.18seconds.
Ogho-Oghene Egwero completed the roster for Nigeria,placing second behind South Africa's Akani Simbiwe with a time of 10.38seconds.
Athletics is another sport that Nigeria hopes to garner more medals from aside Weightlifting which has accounted for all the country's medals so far at the Games.
Nigeria has so far won one gold,two silver and one bronze medal at the games in Glasgow,Scotland.