Former Militants under the auspices of Niger Delta Liberation Force, NDLF, have blasted Ijaw Chieftain, Edwin Clark for criticizing the Goodluck Jonathan administration.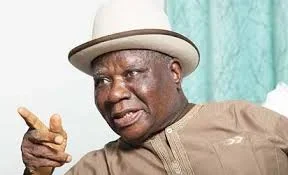 In a statement obtained by VANGUARD, Spokesman of the group, "Captain" Mark Anthony, said, ''Chief Edwin Clark has no moral justification to condemn former President Goodluck Jonathan by saying that GEJ lacked political will to fight corruption. We are surprised at the unguarded comments from a man who called himself elder statesman."
''Clark was part of the rot in GEJ administration, he should keep quiet and allow other Nigerians to judge GEJ stewardship. We see Clark's statement against GEJ as the height of betrayal and backstabbing to find favour with the current administration. President Muhammadu Buhari should be warned to be distant himself from persons like Clark if he wants to end well''
''We support the ongoing anti-graft war and urge Buhari to extend the searchlight to people like Clark, who are fabulously rich rich. EFCC should track the various bank accounts of Clark and others, who do not hold formal government offices and known open businesses, but are stupendously wealthy. We urge Buhari to be impartial in his anti-graft war to bring all looters to book to create a new hope for the future generation of Nigeria," NDLF asserted.