Governor Ayo Fayose of Ekiti State has condemned the accidental bombing of an IDP camp in Borno state.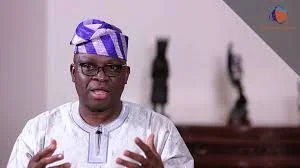 Reacting through his aide, Lere Olayinka Fayose blasted Kaduna state governor, Nasir El-Rufai saying,''Just wondering what El-Rufai's tweets will be today if Jonathan is still the President and over 100 Nigerians were mistakenly killed by military bombs.
''If this had mistakenly happened under GEJ, would anyone believe it was a mistake?
''Won't El-Rufai be on Twitter now saying J onthan did it to reduce population of the North?. IDPs camp is an area designated by the military. Meaning that the military knows the location of the IDPs camps. How can you bomb a location that you know mistakenly?