The presidency has warned governor Ayodele Fayose of Ekiti State to stop making unsubstantiated allegations pertaining to the running of the economy by the federal government, specifically on the September federal allocation of N389 billion.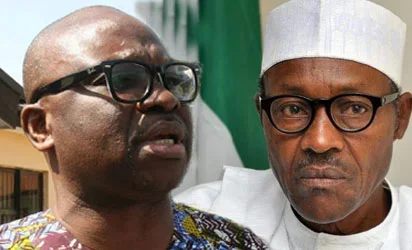 The presidency said Fayose's comment on the allocation was reckless and typical of his past unguarded outbursts.
The senior special assistant to the president on media and publicity, Malam Garba Shehu, who sounded the presidency's warning, was reacting to remarks made by the governor at the recent graduation ceremony of College of Education, Ikere-Ekiti, in which he asked President Muhammadu Buhari to address Nigerians on the state of the economy.
Specifically, Fayose had accused the Buhari administration of paying out the lowest-ever federally distributed allocations among the three tiers of the government.
According to the presidential spokesman, records of such past allocations showed "that the lowest-ever allocation to the three tiers was issued by the PDP-led Goodluck Jonathan administration."
Cautioning the Ekiti State chief executive to be mindful of his utterances, Shehu said: "Governor Fayose needs to be advised to desist from spreading falsehood against the person and government of President Muahmmadu Buhari which has become characteristic of him. He needs to get his facts right before making accusations of the nature he makes.