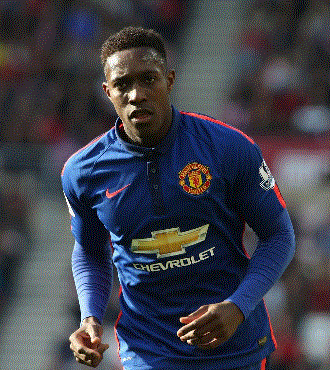 One of the surprise transfers of the deadline day,it was somewhat strange seeing Danny Welbeck jump ship and join Arsenal from bitter rivals Manchester United.
The business done by both clubs in 2012 for the transfer of Robin Van Persie,has the same mechanics that saw Welbeck join forces with Arsenal on Monday.
Although they are totally different,but they seem to have connected in resemblance. While Van Persie was a finished product and in his prime when he left Arsenal,Welbeck is still crude,young and is not fully tapped.
Which explained the backlash by United fans why Welbeck was sold to Arsenal,knowing that his best years arguably are still in front of him.
However the deal has been done,signed and the English striker unveiled by the Gunners,so here we tried to examine what Arsenal tends to benefit from snapping him up for the next four years in a deal worth £16million.
1) He is quick:
If there is anything that Arsenal needs in attack,it is a fast-paced striker whose movements will be in sync with their midfield forays.
In Welbeck they have got a player who is very quick and has great athleticism. One of his greatest assest,Welbeck can easily elude defenders and in some cases leave them injured,ask Ashley Cole who copped a groin injury making a sharp turn trying to catch up with him in an FA cup game in 2013.
Welbeck's speed is something that can been utilised to a great deal at Arsenal and possibly will bring out the best in him
2)He is still young
:
He is still just 23 and has many years of improvement ahead of him.
Perhaps this is the aspect that hurts Manchester United fans the most,letting go of a young player with prospects,who can only get better with age.
At his age and having come through the youth ranks at Old Trafford,he has garnered a lot of experiences playing alongside the best strikers around.
Yet to hit his peak,Welbeck is expected to still attain great heights in the future ahead of him.
3)He is better than Sanogo:
Who do Arsenal have as their Centre Forward at the moment now that Olivier Giroud is out with an injury,none other than young French striker Yaya Sanogo.
Arsenal fans had to endure the misery of seeing Sanogo fire blanks in their last league game against Leicester City.
In all ramifications,Welbeck can be seen as an upgrade from Sanogo,as even his speed alone makes him better.
While Sanogo is yet convince people that he can really be trusted to stake a place in attack,Welbeck has the antecedents to suggest that he himself can do it.
4)He has Wenger to learn from:
Yes he still has a lot of learning to do and who better to teach him than coach Arsene Wenger.
Wenger has a reputation of nurturing young players and helping them achieve their true potentials.
Maybe this could have been one of the factors that Welbeck considered before ditching Tottenham Hotspur and joining their bitter rivals,Arsenal Football Club.
5)He can be sold for a huge value:
He is not the first and certainly will not be the last player whom Arsenal will groom and sell for mega-bucks.
If Welbeck develops as is expected of him and becomes formidable as a lethal striker,it will not be long before the big clubs start swooning around him.
Cesc Fabregas,Robin Van Persie,Samir Nasri all left the club at some stage in their in Arsenal careers,and it was for no chicken fee.
Who knows whether in the furture,Arsenal could even sell him when offers starts coming, possibly Manchester United might even be one of the bidders..
****
The Gunners is like a perfect match for Welbeck and he is even drooling already about playing with them.
"I believe that with the manager's style of play and with the magnificent players in midfield slotting balls through, I can run on to the end of those balls and put them away," said Welbeck.
Arsenal fans can't wait to start seeing him slotting in the ball inside the net.