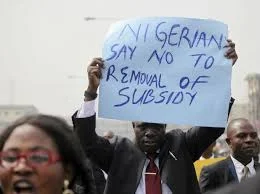 Nigeria the only country increasing pump price? No. The excruciating increase in pump price is not limited to Nigeria alone, major oil rich countries of the world have increased their fuel price this year, some even by over 50%.
1.
Saudi Arabia - 40% increase:
In December 2015,
Saudi Arabia increased fuel price in the country by 40%
. Oil rich Saudi Arabia, last year announced a record $98bn budget deficit due to 'rock-bottom global petroleum prices'. Like Nigeria, Saudi Arabia suffered a sharp drop in revenues as oil prices have fallen more than 60 percent since mid-2014 to below $40 a barrel. To address the situation, the Gulf kingdom increased fuel price by 40%
2.
Venezuela increased fuel price in February, 2016:
President Nicolas Maduro in February increased fuel price to $0.60 (
₦198
) as Venezuela's economy was pushed to the brink by the collapse in the oil price, which accounts for about 95% of the country's export revenues. He said the
over price 50% rise was "a necessary measure, a
necessary action to balance things, I take responsibility for it."
3.
Fuel price increased in UAE in May, 2016:
The oil rich, United Arab Emirates also increased pump price about 2 weeks ago.
Fuel is now sold at $0.45/L in UAE, which is about ₦148/L in Nigerian Naira, ₦3 more than the pump price in Nigeria today.
4.
Qatar increased fuel price by 30% in January, 2016:
The oil rich country that last increased petrol prices in 2011, also increased pump price in January, 2016 to $0.36
(
₦118
) which is the 5th cheapest pump price in the world.
5.
50% increase in pump price in Bahrain in January, 2016:
As a result of the unprecedented drop in global oil prices, which has seen the price of oil per barrel decline by over 60%.
The government in Bahrain followed the steps of fellow Gulf Cooperation Council (GCC) member countries the country increased fuel price by 50% in January
.
Source:
The Politics of Fuel Pricing: How Nigeria Compares with the Rest of the World