Some state chairmen of the Odua' Peoples Congress, yesterday, at media conference in Ilorin, called on the President Muhammadu Buhari led government and the Economic and Financial Crimes Commission to investigate Mr. Gani Adams, who they referred to as a former OPC National Coordinator.
While accusing Adams of financial impropriety, they also called on the EFCC to investigate some aides of Adams such as Ogunshola Olugbade and Femi Felix, who they referred to as his fronts.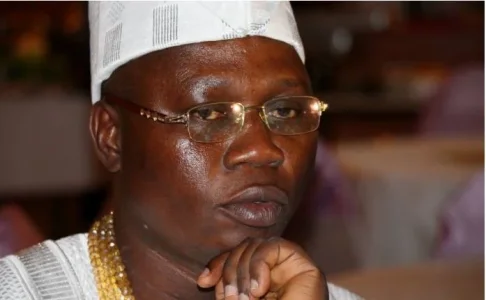 The OPC Kwara State Coordinator, Mr. Maruff Olanrewaju, who addressed the media briefying on behalf of other six states' coordinators in Ilorin, Kwara state call on President Muhammadu Buhari and the EFCC to investigate all Gani Adams banks accounts; Ogunshola Olugbade's account as well as Femi Felix account from February to November 2015.
"Moreso, President Muhammadu Buhari-led administration should give very closed monitoring to the bank and industry sectors because how can someone within a month save more than a billion in an account without any alarm from the bankers?", he said
- PUNCH