The Police in Ekiti State have arrested a student of College of Health Technology, Ijero Ekiti, Busayo Kayode, who allegedly took her bossom friend to be gang-raped by 10 suspected cult members in a bush on the school premises.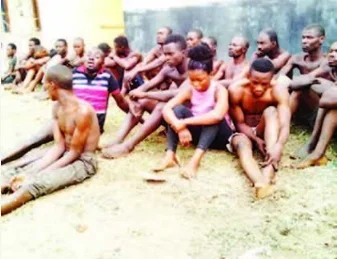 The police said Kayode, who is a member of AVE (Act Very Effective) cult, was in charge of recruiting female students of the institution.
According to a detective, who pleaded not to be named, part of the initiation process is that female students are blindfolded and gang-raped by cult members.
"They are thereafter warned to shut their mouth as initiates or risk losing their lives. But the last victim defied the threat and reported to her parents who informed the police, which led to the arrest of three of the cult members," he added.
A source in the school said many female students had suffered similar fate, but kept their mouths shut to avoid stigmatisation.
Kayode and three of the suspected rapists were among the 26 suspects paraded on Wednesday by the Commissioner of Police in Ekiti, Wilson Inalegwu.
He said, "the cult members who gang-raped a student and their accomplice would be charged to court."