The Ekiti State Governor, Ayodele Fayose, has installed a new king for Isan Ekiti – the hometown of the immediate past governor of Ekiti State, Dr. Kayode Fayemi – now a Minister of Mines and Steel Development.
The governor presented the Staff and Instrument of Office to the new Onisan, Oba Adejuwon Gabriel Ayodele, following his selection by all the six kingmakers in the town.
Fayose, in a statement on Monday by his Chief Press Secretary, Mr. Idowu Adelusi, assured the people that he would "never play politics or trample on truth or deny any group their rights."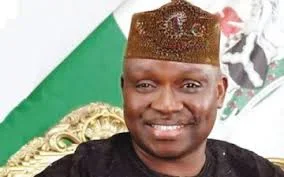 He said, "As God has made me the leader of the state at this period, I must be fair to all and this I am doing in the handling of state matters. That Isan-Ekiti is the hometown of former Governor Kayode Fayemi does not mean the right thing must not be done.
"Politics should not get to the level of meddling in traditional matters like the selection of monarchs for communities, anybody who does that would have unpleasant consequences to contend with".
The governor urged Oba Ayodele to extend a hand of friendship and fellowship to other contestants and advised the people to support him for the growth of their town.