The Indigenous People of Biafra, IPOB, has raised the alarm over alleged plot by the British government and President Muhammadu Buhari to secretly kill its leader, Nnamdi Kanu by administering a "non – traceable posion."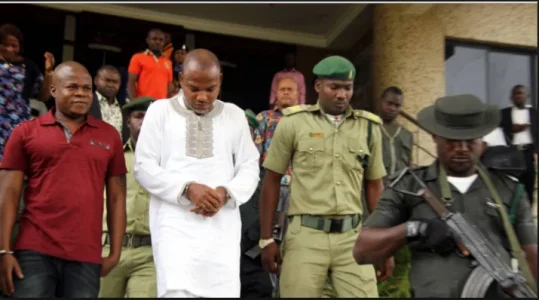 The secessionist group claimed the move was aimed at preventing Kanu from releasing videos and "classified information " indicting both Buhari and the British government as "accessory to genocide on Biafrans."
IPOB also alleged that Kanu was wanted dead before the United States, US, President elect, Donald Trump was sworn in as President.
The pro – Biafra group said a, "phantom road accident" would be arranged for the vehicle conveying Kanu to court should the poisoning attempt fails.
In a statement by its spokesperson, Emma Powerful, the separatist group wondered why the British Government would opt to align with "people of Islamic faith such as Buhari to kill Biafrans and enthrone servitude in Biafraland?"
IPOB called on the British government to retrace its step of allegedly scheming to poison Kanu.
The group warned that should anything happens to Kanu and others standing trial with him, the "British Government shall be held directly responsible for their deaths."
IPOB further reaffirmed its struggle towards the restoration of Biafra, saying "Both Buhari and the Biafra-hating British Government are incapable" of stopping the God ordained project.
The statement reads, "We can confirm that the British Government is working in tandem with President Muhammadu Buhari to stealthily administer a non-traceable poison on the leader of IPOB, Mazi Nnamdi Kanu.
"Our intelligence gathering team revealed that one of the reasons for embarking on this heinous crime by both the British Government and Buhari is to stop the avalanche of leaked videos and some classified information which incontrovertibly placed the British Government as an accessory to genocide on Biafrans.