It's very important for newbies to understand the importance of developing his own successful trading strategy and following
trading psychology rules
. Every professional trader understands that it's impossible to predict the 100% deal profitability, but one is able to increase the productivity analyzing the market with a various range of indicators and providing the monitor of leading traders forecasts on a regular basis. However, one must always remember that the forecast can be erroneous. Therefore, don't forget that your trading strategy should be based on high-quality analytics, reliable sources and assumptions taking forecast as a basis for it.
Automatic trading. How to trade with Forex Advisor?
​
In the case when a trader opens deals in a manual mode, he independently analyzes the market and looks for a good time to open a trading position. In automatic trading the only actions required from trader are installation and launching of a Forex Advisor. Remember that the Forex Expert Advisor quality depends directly on its developer professionalism. For this reason, the development and testing of Forex robots should be handled by professional traders.
The Forex Expert Advisor has a standard trading scheme, so a trader should not expect any unique trade. The market analysis and orders opening on a fixed basis is a main scheme of robot's work.
The main advantage of trading with a robot is that a trade takes place according to a rigid algorithm with no human factor. The main disadvantage of the advisor is occasional failures that occur in his work. Also, software must be regularly optimized for an ever-changing market.
It's worth understanding that the advisor should be set according to your currency pair, deposit and trading period.
Working rules with Forex Advisors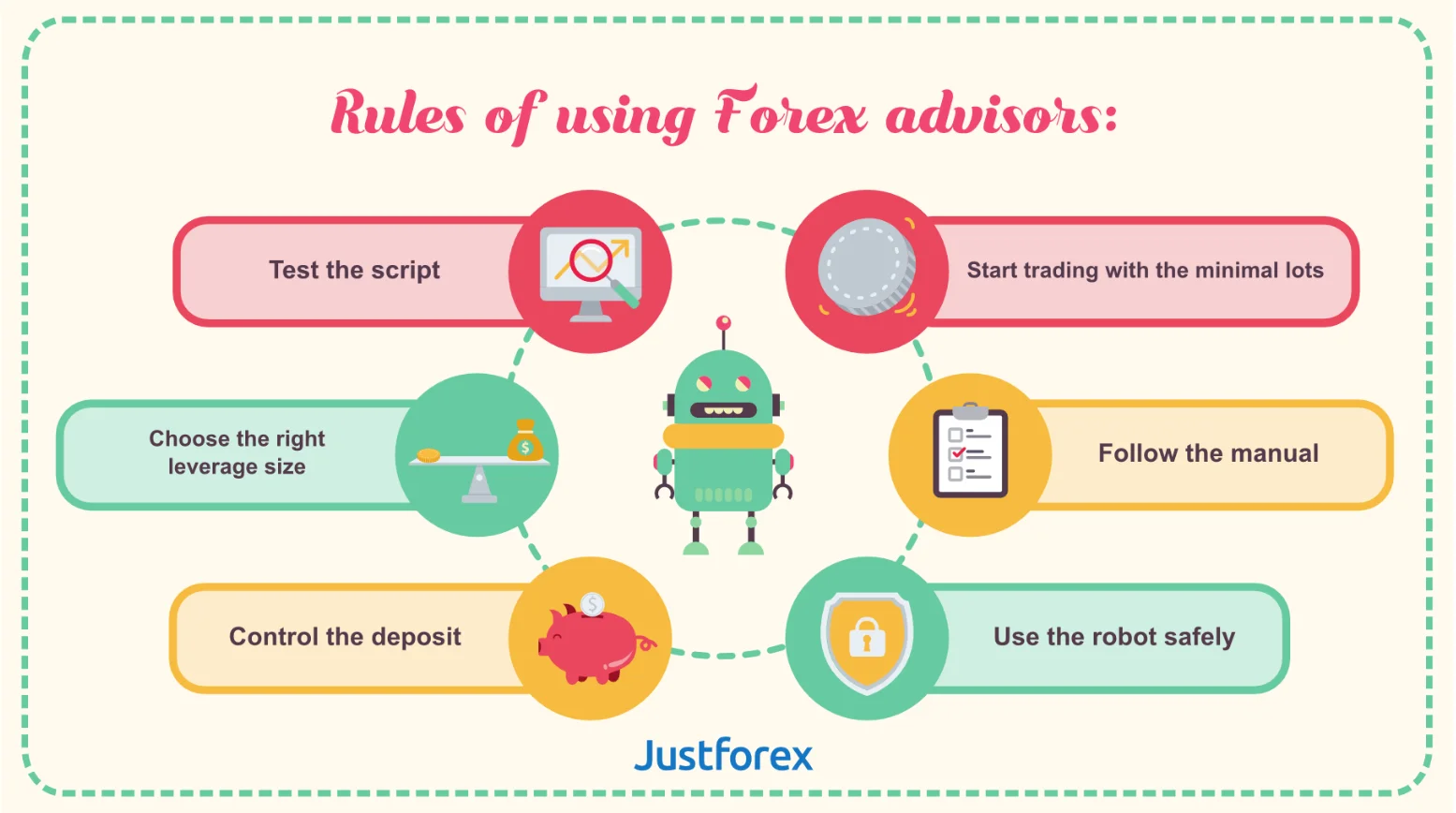 ​
Test the advisors work before start to trade on a live account. You can do it using a special tester or try it on a

demo account

.

This will help to eliminate possible malfunctions at the initial stage.
Start trading with the minimal lots. It is better to use several trading robots with smaller volumes than one advisor with a large one.
Choosing the right size of leverage. If you want to set up the data you use for manual trading, I recommend you carefully set the stop loss.
Competently manage the deposit. It's better to transfer the profit to the reserve account at once.
Safety. At the initial stage confirm the transactions conducted by the advisor manually. Also, the robot must have instructions. If there are none, then it's better to give up this robot, because you don't get a desired result.
Remember that you can develop a trading robot under your strategy, or you can buy a ready one.
More info
about the most popular investment market you can find below.