Vice-president of the Nigerian Football Federation (NFF), Seyi Akinwunmi, has sought to clarify his comments on female football in the country, after being accused of blaming lesbianism for the national team's stagnation.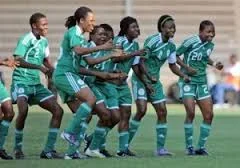 The Super Falcons failed to qualify for this year's Olympic Games and Akinwunmi was quoted as saying "lesbianism kills teams".
He has however come out to state that his comments were twisted.
"I noted that one of the problems we have encountered in trying to raise funds for the women's game, is the perception of lesbianism therein," he said.
"We strongly believe that there are still potential sponsors out there who will lend their support to help us develop our female teams because of the glory that these girls have brought to this country and their enormous potential to do even more."
The Oyo State Chapter of the Sports Writers' Association of Nigeria (SWAN), to whom Akinwunmi gave his original speech, also defended him.
"We wish to place it on the records that the observations of Barrister Akinwunmi, who is the first vice President of the Nigeria Football Federation (NFF) is being interpreted out of context and being promoted in negative connotations by those bent on mischief, most of who were not present at the forum," the SWAN said in a statement.
"His only mention of lesbianism was in general terms and not relative to women football and it in no way suggests an opinion on sexual orientation of any player. Sexual restriction in football camps is also enforced in men's teams and the reason is obviously to reduce the distraction from focusing on work." The statement further affirm.