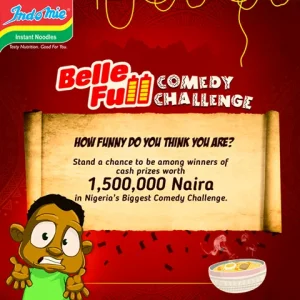 HOW TO PARTICIPATE
Here's how to participate in Belleful Comedy Challenge!

STEP 1:
Record a 2 Minutes funny video and creatively use the word Belleful. Ensure it is extremely funny and creative.

STEP 2:
Visit
HERE
to upload
Step 3
You video will be reviewed and if selected, you get to win fantastic prizes
Good luck
CLICK HERE FOR MORE DETAILS
NOTE
1. Participation in the Indomie belleful challenge means Indomie has the right to use the video in any format at any given time
2. The video can be modified by Indomie and shared on their social media pages as an Indomie property.
3. Winners will be selected by an internal comedy jury and by the public.