Custodian Investment PLC - leading insurance company in Nigeria – has launched Nigeria's first ever Artificial Intelligence (AI) Chatbot in the insurance sector, leveraging technology to deploy enhanced personalized services to its customers.
This Chatbot named Max will interact with customers in a human-style chat mode and is happy to help customers with:
· Getting a quote/purchasing majority of Custodian products and services
· Responding to enquiries about Custodian products and services
· Making claims and checking claim status.
Max is available to interact with customers 24/7 via three platforms; Facebook messenger, Telegram and Web messenger.
On Facebook, customers can connect with Max in four easy steps:
1. Log on to Facebook
2. Type-search @custodianmax
3. Click get started
4. Say hello to Max
On Telegram, simply search for 'Custodian Max', to chat with Max.
www.custodianplc.com.ng/Max
is the link to follow, to connect via web messenger.
Max was officially launched on Thursday 21st June, 2018. In the words of Mr. Oladele Akinsanya, Head of Service Delivery, Custodian Investment PLC, "Customer service is at the heart of what we do at Custodian. This is why we are happy to introduce Max to Nigerians. Max is a tool that enables the customer to drive insurance, based on convenience. Customers can interact with Max in their own way and at their own pace."
"Max is just like a relationship officer that is readily available at your beck and call; anytime of the day and from any country in the world! With Max, you can get your vehicles insured in Lagos while you're on holiday in Hawaii".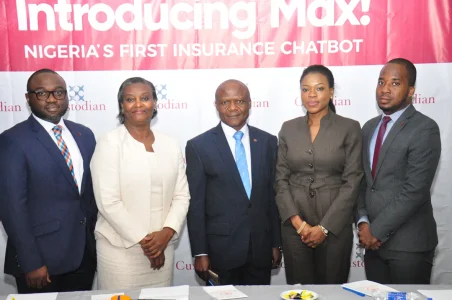 L-R: Esomchi Nwofor, Chief Technology Officer, Custodian Investment Plc; Olubunmi Aderemi, CEO, Custodian Social Responsibility Foundation; Ngozi Nlebemuo, Executive Director, Operations, Custodian Life Assurance Limited; Bisola Ajibola, Head of Strategy, Custodian and Allied Insurance Limited, and Oladele Akinsanya, Head, Retail Division, Custodian and Allied Insurance Limited, during the launch of Max, Nigeria's first digital advisor for the non-banking financial sector in Lagos, on Thursday.
Responding to a question from the audience on the safety of interacting with Max, the Chief Technology Officer of Custodian Investment PLC, Mr. Esomchi Nwofor commented, "All information provided via the chat-platforms with Max are confidential. In the case of reporting a claim, due diligence will be performed before payment is made. Max makes your insurance-life easier. However, Custodian will perform necessary checks to ensure fraudulent activities are eliminated".
With Max, customers of Custodian now have access to insurance, right at their fingertips! No need to make long trips to the office branches; everything you need is one chat way.
Chat with Max now.
About Custodian Investment PLC
Custodian Investment PLC (CI Plc) is a holding company with leading specialist companies and brands including Custodian and Allied Insurance Limited, Custodian Life Assurance Limited, Custodian Trustees Limited and Crusader Sterling Pensions Limited; all rendering best in class services in its versatile fold.
Contact Information
Custodian Investment PLC
16A Commercial Avenue Sabo, Yaba,
Lagos, Nigeria
[email protected]
012774008-9
www.custodianplc.com.ng
Last edited by a moderator: