In the last few days, the
#IfToSay
hashtag has creatively captured those "If I had known moments". The sponsors of last year's
#YepaChallenge
, Custodian & Allied PLC, are at it again.
#IfToSay
is Custodian's way of reminding us that insurance is a good way to avoid finger-biting regret. In line with this sentiment, the leading financial services group has introduced a new social media campaign, Trust And Partnership. The campaign will feature a series of interesting initiatives to remind us of the value of mentoring and partnership.
Custodian will be starting a video series, featuring mentors who share lessons they wish they had learned when they were younger. The series will provide much-needed encouragement to people facing uncertainties in life. Watch the first video with Lemi Ghariokwu, the legendary artist and illustrator who provided many of the original cover images for Fela Kuti's musical records, on Custodian's social media timelines.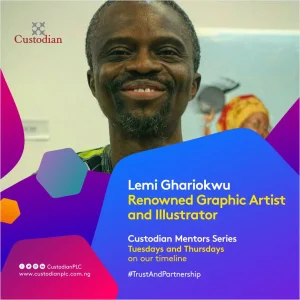 To learn more about Custodian's social media campaign, please follow @CustodianPLC on Facebook, Twitter, Instagram and LinkedIn.
About Custodian and Allied PLC
Custodian and Allied Plc. (CA Plc) is a holding company with leading specialist companies and brands including Custodian and Allied Insurance Limited, Custodian Life Assurance Limited, Custodian Trustees Limited and Crusader Sterling Pensions Limited; all rendering best in class services in its versatile fold.
CA Plc. is managed by a Board comprising thorough bred professionals with proven track records in their various fields of endeavor, who bring broad and deep insights derived from several years of fruitful and eventful years of experience to bear. With assets in excess of N69.8 billion and a gross written premium of over N25.7billion, Custodian And Allied Plc sits comfortably within the top bracket of eminent players in Nigeria's financial services sector.
Contact Information
16A Commercial Avenue Sabo, Yaba, Lagos, Lagos Nigeria
[email protected]
012774008-9
www.custodianplc.com.ng