Governor Ifeanyi Okowa came into government with a five-point agenda tagged SMART. It means: Strategic wealth creation; Meaningful peace building platforms; Agricultural reforms and accelerated industrialisation; Relevant education and health policies; and a Transformed environment through urban renewal.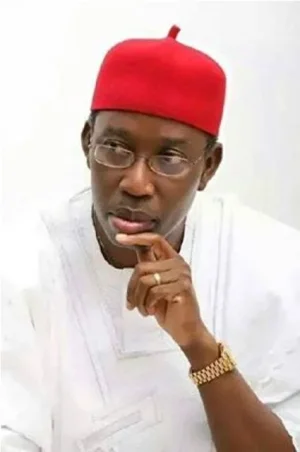 In an exclusive report filed by Vanguard, below is how the Governor fared in the last one year.
1. Unemployment:
Over 1,300 youths have so far been trained and provided with equipment in their respective areas of trade and cash to start off business. While some of the youths are trained in skills, others are trained in the area of farming.
2. Construction of Roads:
In the area of roads, Okowa is not lagging behind. He has embarked on the building of many township and rural roads. His desire to provide a good network of roads in the state is apparently not deterred by the present economic crunch. He has embarked on the construction of the middle section of Alisimie-Ozanogogo Road; dualisation of Nnebisi Road, from traffic light to Cable Point, Asaba. Also, he is reconstructing the old Oleh/Emede/ Olomoro Road; widening/reconstruction of Owhe-Ologbo/Abbi Road and reconstruction/expansion/construction of Kefas Road, Emore Road and Uzere Road. In Sapele, Orerokpe and Ughelli axis, Okowa is working on the dualisation of Sapele Road, from Amukpe Roundabout to AT&P, Sapele; the construction of Ejinyere/Orodje Street, Orerokpe and construction of Oteri township roads, Ughelli
3. Education:
In pursuit of his resolve to tackle the dwindling standard of education, Governor Okowa held a two-day Education Summit with the theme 'Leapfrogging Education in Delta.' The summit which attracted prominent Nigerians and educationists like Chief Afe Babalola, Prof Pai Obaya and a host of others, addressed the challenges the education sector was facing in the state and the way forward. As part of his effort to revive vocational study, Okowa has embarked on the upgrade of Sapele, Agbor, and Ofagbe Technical Colleges. He is also upgrading infrastructure in both primary and secondary schools across the State.
4. Health:
To drive home his policy of prosperity for all Deltans, believing in the age-old truism that health is wealth, Governor Okowa's administration is poised to implement the Contributory Health Pension scheme which will ensure universal coverage for all categories of Deltans. The Governor has equally consented to the establishment of the Nigerian Institute of Medical Research's, NIMR South-South out station in Asaba. This will bring closer collaboration between NIMR and tertiary health institutions in the state and that is besides providing employment for Deltans.
5. Business and Tourism:
And in line with the administration's commitment to open up the state for business and tourism, he has embarked on the remodelling of the 3.4 kilometers runway of the Asaba International Airport to meet international standard. The aviation authorities had recommended the measure to enable bigger aircraft to land at the airport.
Culled from
Vanguard