The Joint Admissions and Matriculation Board, JAMB, has announced that students will no longer be able to secure admission into higher institutions while awaiting their O'level results.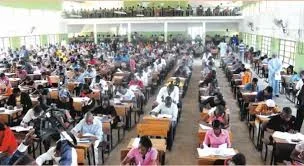 JAMB said this was part of its restructuring in preparation for the 2017 UTME higher institution examination.
This means candidates must sit and obtain the results of either West African Examination Council school examination, WAEC, or National Examination Council, NECO, before admission.
JAMB also introduced a fourth choice of school, but said candidates can apply to only one government-owned university.
In a statement by its spokesperson, JAMB also announced the introduction of fourth choice of higher institution during application by candidates.
The statement reads: "In the cause of conducting admission exercise, many institutions have admitted candidates on merit only for them to discover that such candidates do not have qualified O'levels results or the right combination for admission and had to delete and start the process all over again. With this, they would have denied other qualified candidates the opportunities for admissions.
"This we are addressing by ensuring that no candidate is henceforth recommended without his O'levels result being supplied. To achieve this, JAMB will insist that candidates supply their result on its website during registration or later, but before admissions commences for them to be considered for admissions. We believe this will allow only qualified candidates to be considered for admissions.
"Candidates and their parents are also to note that the Board has restructured the registration platform to allow for only one choice of Public University. The new registration platform will now be first choice, second choice, third choice and fourth choice and not most preferred, preferred etc as it was.
"Candidates' first choice can be a College, University, Innovative Enterprises Institutions or Polytechnic/Monotechnic. However, if a candidate makes a Public University his first choice, he will not have any public University to choose for 2nd, 3rd and 4th choice. He will have on the remaining three choices, a College, a Polytechnic, Private University and IEI'S. However, candidates for the 2017 UTME can now select NCE (College) or ND (Polytechnic/Monotechnic) as their 1st choice up to 3rd choice and the 4th IEI. They can select the IEI (Innovative Enterprise Institution, ND) as their 1st choice up to the 4th choice, but can only pick a public university once.
"Again, we want to inform candidates that no cyber café will be registering candidates for our examination. On no account should any candidate patronize any cybercafé for our registration. It is important to note that the Board will not deploy the use of any scratch card for the 2017 UTME registration exercise."