A jealous housewife, Oluwakemi Etu, yesterday morning hacked her husband, Mr. Kehinde Etu, down with machete, leaving him in a coma and pool of blood.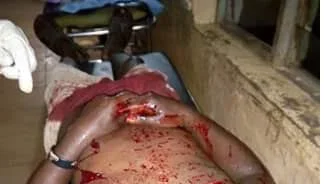 The Nation gathered that the woman who attacked the man when he fell asleep shortly after making love to her, also had an argument with him in connection with alleged moves to marry a second wife.
The Nation gathered that Oluwakemi had invited the husband over to her residence at the Erinlu area of Ijebu – Ode, Ogun State, to spend the weekend with her without suspecting any foul play.
It was learnt further that while he was there, he was treated warmly by the woman, luring him into false sense of security only to attack him savagely with machete later, inflicting several deep cuts on his chest, arms, shoulder and lower part of the head in his sleep.
The Acting Police Public Relations Officer, Ogun State Police Command, Mr. Abimbola Oyeyemi, who confirmed the incident, said Oluwakemi has been arrested by policemen from the Obalende Divisional Police Headquarters, Ijebu – Ode.
A source at the hospital told The Nation that Kehinde regained consciousness at the hospital.
See more photos: