Former President, Goodluck Ebele Jonathan in a statement published on his official Facebook page, yesterday, expressed pleasure to African Sun Times for naming him as its International person of the year, 2015.
The Newspaper had on the last day of 2015 announced Goodluck Jonathan as its Man of the Year due to his numerous roles in the post election activities and accepting defeat even before the official announcement of the poll results.
Related:
Goodluck Jonathan Named International Person of the Year 2015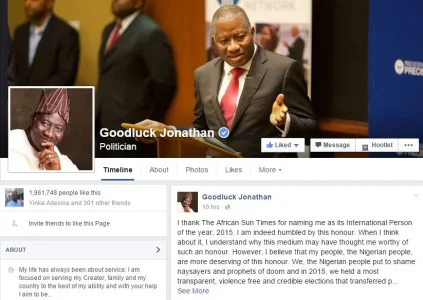 African Sun Times is Africa's number one and largest newspaper in the USA.
He noted that he understands why this medium might have thought him worthy of such an honour.
"I thank The African Sun Times for naming me as its International Person of the year, 2015. I am indeed humbled by this honour. When I think about it, I understand why this medium may have thought me worthy of such an honour.
However, I believe that my people, the Nigerian people, are more deserving of this honour.We, the Nigerian people put to shame naysayers and prophets of doom and in 2015, we held a most transparent, violence free and credible elections that transferred power from one political party to another and from an incumbent to the opposition, without rancour, bitterness or strife"
, he said.