Col. Ojogbane Adegbe, former aide-de-camp to immediate past president, Goodluck Jonathan, the military personnel has debunked ever threatening to open a can-of-worm about his erstwhile principal.
Col. Adegbe, while expressing shocks and disbelief over the recent viral report, which quoted him as saying that if
he was forced to reveal what transpired under the last administration, Nigeria will burn
, had demanded an unreserved apologia from the management of the Sun Publishing Limited for dragging his hard-earned name to the mud.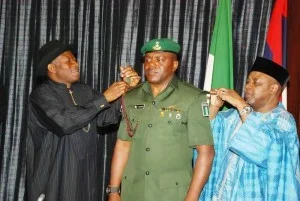 He said his recent visit to the office of the Economic and Financial Crimes Commission (EFCC), was never in connection with the controversial arms scandal.
Reacting to the report, the military official in a letter by his solicitor, Chief Ogwu Onoja, SAN, and exclusively obtained by DailyPost, denied ever making such controversial statement against his former boss during his interrogation at the EFCC office.
Source:
DailyPost