National Leader of the All Progressives Congress, APC, and former governor of Lagos State, Asiwaju Bola Tinubu, has described former president Goodluck Jonathan's Sure-P programme as a monumental fraud which only objective was to siphon public funds into the pockets of its architects.
According to Tinubu, only thing that is sure about Sure-P was that its architects would siphon the public's funds to fatten their own wallets. "They wanted to save money (for themselves) yet expend the people for no good reason at all," he added.
In a statement entitled: Ending Price Fixing, The Making of Economic Sense, released on Thursday, the APC leader commended President Muhammadu Buhari for being courageous in his decision to remove the oil subsidy, adding that the president did what is right.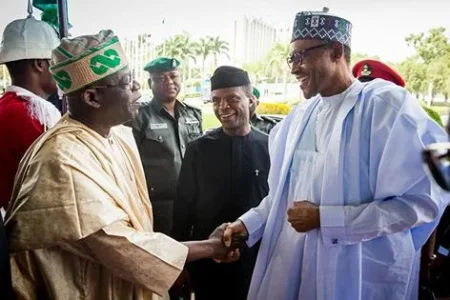 "President Buhari after carefully weighing the options decided to do what is right. In an act of courage he removed the oil subsidy thereby freeing the downstream component of this strategic sector of the economy from the distortions of price fixing."
"As political progressives, we are anchored by a healthy and strong regard for the positive role government must assume in ensuring fair play and the just allocation of wealth and benefits within our political economy. We understand that the so called free market is not always fair. This is the major reason that we advocate a comprehensive policy of economic development projects coupled with social programs. These development projects will build the infrastructure and create jobs that were beyond the ability and rationale of our private sector to do. The social programs will bring succor to those the dynamics of the free market would have otherwise left behind", he said.
Read Full statement