The Chairman of the Code of Conduct Tribunal (CCT), Justice Danladi Umar, has advocated for the return of Decree No 2.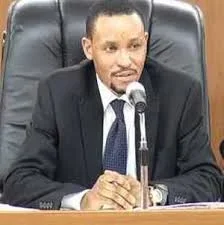 Speaking at the end of Tuesday's proceedings, Umar stated that "journalists should be punished" for publishing falsehood.
Danladi said this in response to articles that appeared in some section of the media last week that the trial of the Senate President was adjourned indefinitely.
"it is a criminal offence." " If not that we are under a democratic setting, I would have advocated for the retention of Decree No. 2," he stated.
Recall that during the military administration of General Muhammadu Buhari, Decree Number 2 gave the Chief of Staff at Supreme Headquarters the power to detain for up to six months without trial anyone considered a security risk.
Under the law, offending journalists and publishers will be tried by an open military tribunal, whose ruling would be final and unappealable in any court and those found guilty would be eligible for a fine not less than 10,000 naira and a jail sentence of up to two years.
Source: Vanguard