Nnamdi Kanu, leader of the Indigenous People Of Biafra (IPOB) is back in court.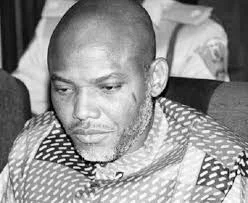 Federal High Court judge, Binta Nyako has ordered that all journalists covering the case be barred from using their phones and cameras; SUN News reports. An operative of the Department of State Security (DSS), dressed in plain clothes, stood on the entrance of the courtroom alongside three heavily armed prisons officials.
"Madam (the judge) gave the order; she said no journalists should be allowed inside with their phones their cameras," the DSS operative said to a journalist who queried the directive.