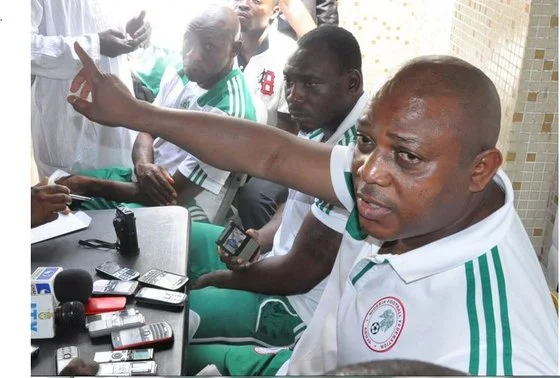 South Africa coach Shakes Mashaba has warned Super Eagles coach Stephen Keshi to get ready for war.
Both sides clash tomorrow in Cape Town for their second match in group A of the 2015 African Nations Cup qualifiers.
And with the two teams having mixed results in their first games respectively,it is well poised for an entertaining encounter.
Mashaba did admit that Nigeria always had the upper hand when both teams,but reiterated that the Bafana Bafana are changed now and would give the Super Eagles a tough time
"This Nigeria team has been giving us nightmares, but we will fight in every game," said Mashaba.
"When two Elephants meet, it is grass that suffers. Watch out, brace yourself for war that day [when Mashaba meets Keshi], because, like I have indicated earlier on, they [Nigeria], have given us sleepless nights."
"This is one time they must brace themselves for war up to the fullest, it won't be an easy walk in the park for both teams, but what we are looking for is to come out victorious and that win will change a lot of things in our football, both in administration, media wise, any structure that you talk about," Mashaba added.
"We win that game [and] things will change for the better."