Two soldiers allegedly brutalised a lawyer, Adeyemi Akintoye, in the Yaba area of Lagos State for "walking slowly on the road."
PUNCH learnt that one of the soldiers, identified as Uko Obasi, from the Tailoring Department of the Ordinance Barracks, Yaba, allegedly assaulted Akintoye near Tejuosho Market, Ojuelegba Road, Yaba, and kicked him repeatedly with his boot.
The assault occurred at about 6pm on Thursday, while Akintoye was returning from work, during which the lawyer was dispossessed of a sum of N350,000 he had collected from a client.
It was gathered that at that time, Akintoye, who held a folder containing the money, was walking down the road when the soldiers, who were behind him, ordered him to walk faster.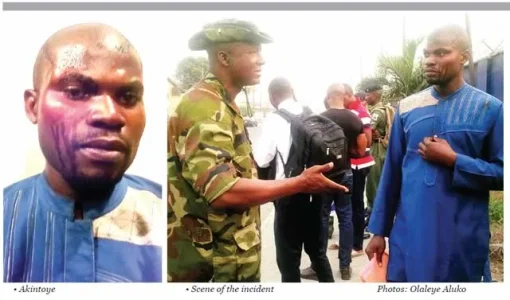 Akintoye was said to have replied that he was not obstructing their movement as the road was wide enough for everyone to pass.
The soldiers were said to be infuriated by the lawyer's response and allegedly beat him up.
It was gathered that when the lawyer fell and became still, a crowd, which gathered at the scene, held Uko Obasi, while his colleague fled from the scene.
The matter was later reported at the Sabo Police Division.
READ More