An unidentified woman, who is about 30 years of age, with mental illness, on Saturday, went into labour along Marian Road, one the busiest outlets in Calabar, the Cross River State capital.
According to the PUNCH, she was observed to be in labour at about 3.50pm. An eyewitness, Ofon Umoh, who has a shop around the scene of the incident, said the woman had been a familiar face in the neighbourhood before she got pregnant.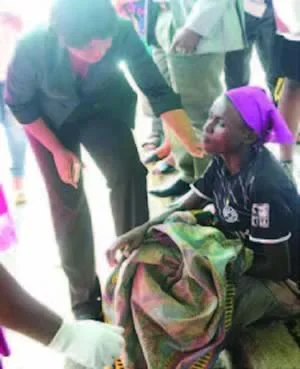 Umoh said, "She was a familiar face around this vicinity, but after a while, we did not see her for some time. She only resurfaced with pregnancy. I think she was raped.
"She returned some days ago and sat on the spot where she gave birth. We noticed that she had become restless since Thursday, but because we were not communicating with her, no one knew it was the labour pain that was disturbing her.
"It was when the baby started coming out that people called the health workers, who came here to assist her. The workers' swift response also helped in easing the process for her."
She was taken to the General Hospital in Calabar at the instance of the Cross River State Commissioner for Health, Dr. Inyang Asibong.
"The Commissioner for Health responded immediately by going to the scene personally with an ambulance to handle the situation. On arrival, she took the mother and the baby to the General Hospital, Calabar, for expert medical attention," another source said.
However, there was a mild drama before the team left for the general hospital as the mentally-ill woman refused to follow them.
It took the effort of another mentally-deranged woman, who is her friend, to convince her to follow the medical team to the hospital.
PUNCH