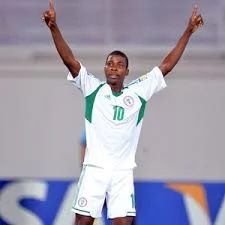 Manchester City are ready to exhaust all options to keep Nigerian rising star Kelechi Iheanacho at the club.
Iheanacho on Wednesday showed that all the hype about him was no fluke when he dazzled in City's 4-1 victory over Sporting Kansas City.
In addition to seeing 90 minutes of action,Iheanacho got the fourth goal for City,piling in a low drive from the edge of the box to seal the victory.
But Iheanacho cannot yet play in England because he does not yet have the relevant work permit needed to do so.
However,City are willing to explore all options in order to have Iheanacho remain with them in England and not loan him out.
City coach Manuel Pellegrini praised Iheanacho after their game against Kansas City and admitted he is a player he would love to keep him.
"Kelechi is just 17 years old and he's a very important player for us in the future.
"He has demonstrated what he can do in the future. It depends on the way he takes this profession, but I think he's a good talent.
"We've not yet decided (what the plan is for him) because it's not easy. He's just 17 and sometimes that's the problem. We'll see what he will do in the future."
Photo Credit: FIFA.com